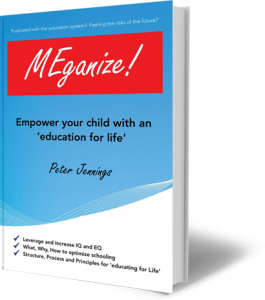 As a parent you should be asking yourself these 3 questions:
Why is our education system failing us?
Are you equipped as a parent to lead your child into the wide world?
Do you know the best route to ensure an empowered education?
'MEganize' reviews the major problems created by our controlled education structure, and offers a fundamental solution.  Many of our 'flaws' in society today are a result of our schooling structure, and have translated into big problems in society, resulting in higher, unproductive costs at the expense
of our future. You must know what these are.
This is a handbook for all parents in order to clearly understand how best to educate their child and how the schooling structure impacts their lives. It covers many essential topics including core motivation, focus, new skills-based curriculum direction, learning processes, and how to increase the probability of their child's success academically and emotionally.
We face a new world of global production and resource utilization. If our children are not a smart as the Chinese or Indian kids, they will not get the jobs.  American companies already outsource many jobs to those best qualified to 'add value'.  We need to understand the reality of this situation, to take action to prepare our children to get the 'best education for life.' This applies to the workplace and to the other factors that can devastate us if we are not prepared.  Economically and socially, we have to make fundamental changes.
'MEganize' is a 21st century guide to what we have to do for our children, to survive and prosper. Based on proven principles, expert resources, best practices and confirmed by experience.
Share This